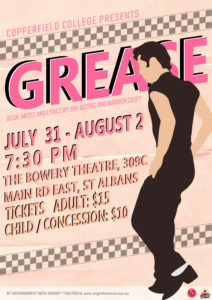 The students and staff involved have been working very hard to create this year's College Production of Grease and we are very excited to perform next term. If you would like to purchase tickets to come and watch the show, please follow the link below.
Dates: Wednesday 31/7, Thursday 1/8 and Friday 2/8
Time: 7:30pm, doors will open approx. 7:10pm
Location: Bowery Theatre,309C Main Rd East, St Albans
Ticket link: https://www.trybooking.com/BDMSA
This year, we decided to double-cast the production as we have so much talent across the college. This means that, for most of the main roles, there are two students playing the same character, however they will alternate performance nights – when they are not playing their character, they will be performing in the chorus.