English
The outstanding English course at Copperfield College inspires students to become lifelong readers, confident writers and articulate speakers. Beginning with an exemplary reading course at year 7, students learn the thinking skills to comprehend and understand a range of text types. We instill a love of reading and writing through visiting authors, poetry incursions and writing competitions. Furthermore, we pride ourselves on an engaging and outstanding library.
From years 7 to 12, teachers work in partnerships with students to reflect on data, set goals and to apply reading and writing strategies. Our culture of regular timed writing, building stamina and revising work, sets students up for success for VCE and VCAL.
Year 12 Extended English Class
The extended English class is a weekly class in English called the "Writing Group". This class gives students the opportunity to be stimulated by collaborating with 25 other top achievers in Year 12 whilst having the opportunity to have more timed writing practice and feedback. This is a one period timetabled class for our high achieving students. In 2018, this class achieved some outstanding results in English, as well as impressive ATAR scores.
The Victorian High-Ability Program (VHAP)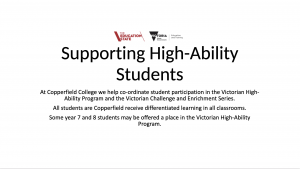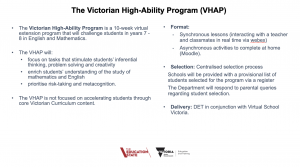 EAL
EAL (English as an Additional Language) is offered at the college to students who were born in a non-English speaking country, and who have lived in Australia for less than seven years.  Eligible students attend EAL instead of mainstream English classes, where they will learn a curriculum that has been created to suit new or inexperienced users of the language.  EAL classes are typically much smaller than mainstream English classes, allowing for greater interaction between teacher and student and supporting learners to build confidence in their English language skills.
In EAL, there is a strong emphasis on acquiring vocabulary and the rules of English grammar, as well as learning how to write in many different styles.  At Years 7-9, students will participate in the college's Independent Reading Program for one lesson per week.  Here, they will learn strategies that will help them to read, understand and enjoy a variety of texts of increasing complexity.  Speaking and listening activities are also an important feature of the EAL course – designed to improve students' conversational skills, prepare them to make formal speeches and develop their oral comprehension. 
Students may study EAL from Year 7 through to Year 12, depending on their eligibility.  When an EAL teacher determines that a student has reached a level of English that is comparable to a native speaker, they may recommend that the student transfers to a mainstream English class.
Humanities
Why study the Humanities?
All Humanities subjects deal with knowledge, and knowledge is power. At each year level, the study of Humanities helps students understand themselves, the world, and will improve their skills in other subjects.
Year 7
In Year 7, students are introduced to ideas about history and the world. In one unit, for example, students will focus on the life of a person in Ancient Egypt. Students will also learn how to create a budget, write reports, do research, go on excursions, and ask deep questions.
Year 8
In Year 8, students will deepen their understanding of history and learn about more recent events like the Black Death and the Renaissance. Each class will enjoy an excursion to Williamstown Beach as part of their Geography field trip.
Year 9
The Year 9 course is a special time for the Humanities because each Semester is so different: Challenge Day and History. In Challenge Day, students will experience an election for themselves by creating their own political party and learning how to vote. Guided by their teachers, students will also conduct research in the city on an issue of their choice. In History, students will learn how the Industrial Revolution created our modern age as well as the Federation of Australia.
Year 10
In Year 10 students can choose electives based on their interests, from World Wars One and Two, Geography, Economics, Business Management, Legal Studies and Philosophy. Each of these subjects will improve students' thinking, research, reading and writing skills, will also help prepare them for VCE, and life after school.
VCE
In Year 11 and 12 students can choose Accounting, Australian History, Australian Politics, Business Management, Economics, Legal Studies and Philosophy (to name but a few). Each of these subjects leads to a large number of different industries as well as further education at university.